The Curaçao Maritime Museum is located in an old building in the corner of the striking Scharloo district.
The building has had various functions over the centuries, from residential house to hotel. In the 1980s it fell into disrepair and burned down. After the monument foundation bought the building, it was renovated and converted into the beautiful museum it is today.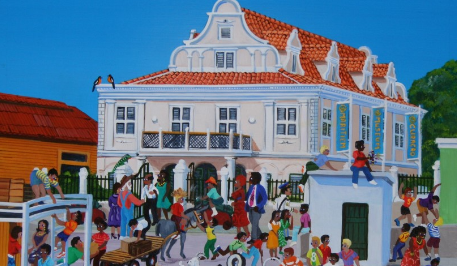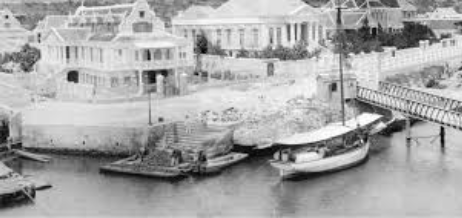 The Maritime Museum of Curaçao is a privately operated institution that relies on the support of its generous sponsors, active volunteers, and visitors like you.
With its stunning location and charming atmosphere, it serves not only as a hub for maritime history, but also as a versatile event space for seminars, lectures, weddings, and more, with a capacity of 100+ guests in its air-conditioned and authentic setting.
Come visit us and experience the passion and dedication of our team at the Maritime Museum of Curaçao.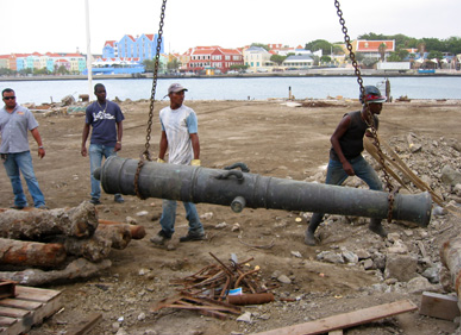 An Explosive Maritime Discovery
Discover the captivating tale of the 1778 Alphen frigate explosion at the port of Willemstad, Curaçao, through a remarkable artifact found during the renewal of the Kleine Werf quay in 2007. A bronze cannon, recovered from eight meters below the surface, was identified as originating from the ill-fated Alphen frigate. The cannon, a bronze hunter, was crafted in 1776 by Pieter Seest of Amsterdam, making it the largest known cannon from his renowned artillery and bellfoundry.
Measuring an impressive 269 cm in length with a barrel diameter of 9.7 cm, the cannon is capable of firing six-pound cannonballs. Notably, two dolphins adorn the cannon, serving as hoisting mechanisms. Weighing a staggering 1600 pounds, this artifact offers a glimpse into the maritime history of Curaçao.
Currently under the custodianship of the National Anthropological and Archaeological Foundation Memory Management (NAAM), the cannon is proudly displayed at the Curaçao Maritime Museum. Accompanied by informative exhibits, the cannon shares the tragic narrative of September 15, 1778. On that fateful day at around 8:00 AM, the Alphen exploded in Curaçao's harbor, resulting in the loss of 202 crew members, including the captain, as well as 50 local residents. The cause of the explosion remains shrouded in mystery.
Discover the fascinating story behind the Alphen frigate and pay homage to the lives lost through this unique historical artifact. Immerse yourself in Curaçao's maritime past as you explore the displays and delve into the events that unfolded on that fateful day. Visit the Curaçao Maritime Museum and experience the gripping history of the Alphen cannon, a testament to the island's rich cultural heritage.