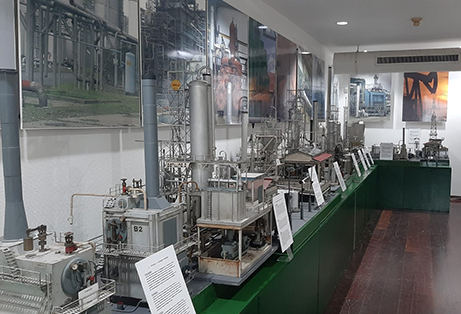 Meet the builder
Nearly 90 years ago, Mr. Hubert Vos, then employed by Shell, began constructing a model based on the Shell refinery in Curaçao. Devoting every moment of his free time to the project, he painstakingly built each component, and by around 1970, after 35 years of dedication, the model was completed. Covering an area of approximately 10m2, the model faithfully replicated all the elements found in a real refinery.
Under Mr. Vos's guidance, the miniature refinery, powered by steam, was able to separate a mixture of four products: fuel oil, paraffin, gas oil, and kerosene. It truly functioned!
Upon his retirement, Mr. Vos brought the refinery model back to the Netherlands, where it remained in storage for many years. Several oil-producing countries expressed great interest in acquiring the model and made significant offers to Mr. Vos's heirs. However, no agreement was reached, and the model stayed in the Netherlands.
The opportunity for the model to find a new home arose when a family member of the builder, Caroline Fiévez, visited the Maritime Museum. During the visit, the topic of the model came up, and she sparked the enthusiasm of the builder's son to lend the model to the museum. Since Hubert Vos, the creator of the model on Curaçao, likely wished to see it return to the island, the rest of the family agreed with Edwin Vos's proposal. Thus, since 2002, the model has been on display at the Curaçao Maritime Museum, thanks to the efforts of Caroline Fiévez and Edwin Vos.


Experience history in action
Witness the marvel of unique, one-of-a-kind working replicas of the real steam engines that powered the refinery in the first half of the previous century, operating on compressed air at the Curacao Maritime Museum.
This exceptional exhibit allows you to experience the intricate machinery of steam pumps and steam motors in action. Watch in awe as the steam pumps rhythmically transfer fluids, and the steam motors power various components of the refinery. This captivating display offers a rare opportunity to immerse yourself in the inner workings of a bygone era.
Don't miss the chance to witness the mesmerizing sight of these steam-powered mechanisms in full operation at the Curacao Maritime Museum.