A treasure chest full of history
The Curaçao Maritime Museum takes you on a journey of discovery of more than 500 years of Curaçao's maritime and national history.
Discover Curaçao's maritime heritage at our museum, featuring nautical charts, ship models, navigation equipment, and engaging displays.
Our newest addition is a remarkable model of the Curaçao oil refinery, crafted by the late Mr. Vos, a former Shell employee. Gain insights into the refinery's operations and historical significance.
Join a guided tour for deeper insights into our exhibits and take a harbor tour on an original ferry to see Willemstad's bustling harbor.
Immerse yourself in Curaçao's rich maritime history and experience the legacy that has shaped the island's identity.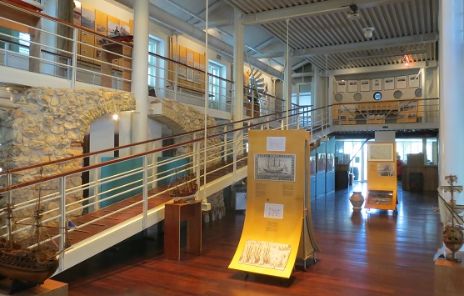 Opening Hours
Open on Tuesday, Wednesday, Thursday and Saturday from 10:30 AM till 3:30 PM.
We are also open on the other day's when a cruise ship is in port from 10:30 AM till 3:30 PM.
Admision fee 2023
Adult (18+): NAf. 17.50 / US$ 10.00
Child 6-17 years old: NAf. 12.50 / US$ 7.00
Child less than 6 years old: Free

Curaçao residents with sedula and "kortingskaart" holders pay the US$ price in NAf. Children under 12 must be accompanied by an adult.

Every Wednesday from 2:00 - 3:00 PM we offer the famous harbor tour, an exiting trip not to be missed. On one of the authentic habor ferries you get to experience Willemstad from the water. One of our tour guides will tell you all about the history of the Saint Anna Bay, the floating bridge, the "Handelskade", the harbor and more. Ticket fee is NAf. 35,- for adults and 27,- for kids 3 till 12 year.
Reserve your spot at (+599 9) 465-2327 or [email protected].
situated in the heart of the world-renowned Scharloo neighborhood of Willemstad, a UNESCO World Heritage site, the Curaçao Maritime Museum is just steps away from the floating Queen Emma bridge and cruise terminals.